Farrell's Buena Park Menu
Grilled Cheese and Tomato Soup Shots ..... $9
Mini sandwiches with gouda, swiss, cheddar, and parmesan atop housemade tomato basil soup shots.

'Merica Style Poutine ..... $10
Fresh cut fries, white cheddar cheese curds and grilled onions, topped with brown gravy.

Parlour Street Tacos ..... $9.50
Three Soft flour tortilla's grilled and filled with natural ground beef, shredded cheddar cheese, sautéed onions, topped with our house made salsa. Chicken breast topped with cheddar cheese Chipotle ranch and topped with fresh avocado. Fresh carved pastrami, mozzarella cheese, mustard, and topped with sliced pickles.
Slider Trio ..... $9.50
We take 3 mini brioche buns and stack them full!
• Natural beef patty, american cheese, grilled onions, and a pickle
• Chicken breast smothered in pepper jack cheese and buffalo sauce
• Chicken breast, swiss cheese, housemade teriyaki, atop fresh pineapple
Hand-Battered Boneless
Wings ..... $11.50
Choice of buffalo, sweet Thai chili, teriyaki, or BBQ sauce.
Housemade Chips
and Salsa ..... $3.95
House corn tortilla chips with our very own salsa.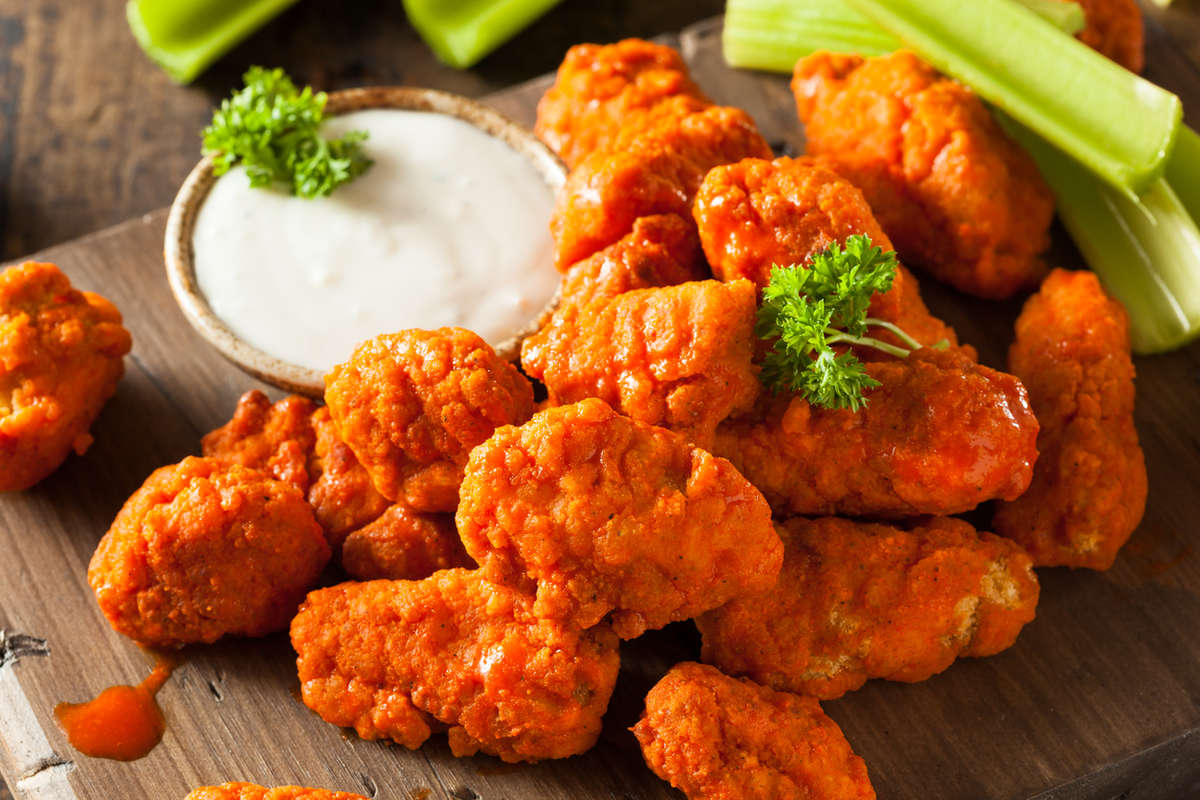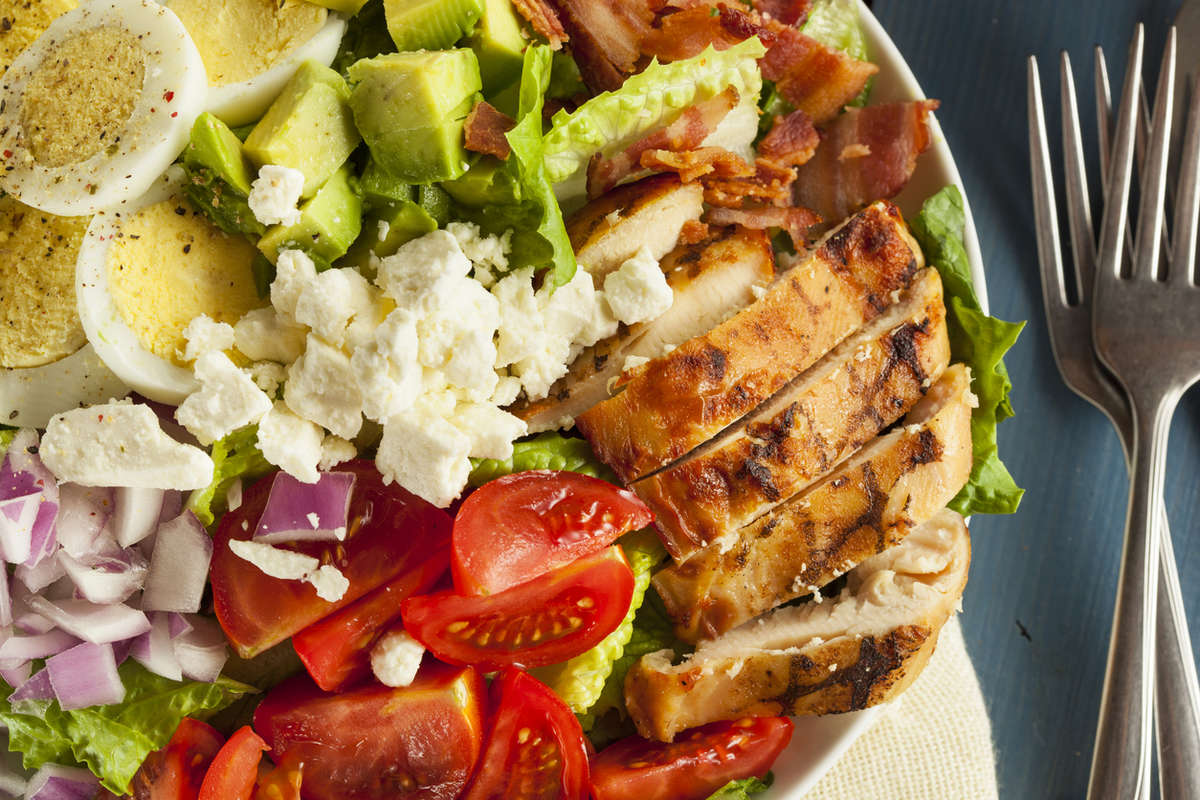 Chicken Caesar ..... $12.50
Romaine lettuce and grilled chicken breast tossed in our traditional Caesar dressing and topped with croutons and shaved parmesan cheese.

Southwest Steak Salad ..... $14.50
Perfectly marinated tri-tip, iceberg and romaine lettuce, tomatoes, red onion, roasted corn, cilantro, and cucumber. Topped with avocado and our chipotle ranch dressing on the side.

Classic Cobb ..... $14.95
Chopped romaine and iceberg lettuce with grilled chicken, bleu cheese, hardwood smoked bacon, hardboiled egg, tomato, black olives, cheddar cheese, and your choice of dressing.
Summer Salad ..... $13.50
Mixed greens, avocado, tomatoes, cucumber, carrots, and sliced granny smith apples. Served with housemade lemon garlic dressing. Add chicken for $2.50.

House Garden Salad ..... $3.95
Romaine and cabbage, tomatoes, and croutons with your choice of dressing.

Tomato Bisque Soup
cup ..... $3.95 bowl ..... $6.50
Topped with croutons.

Mrs. Farrell's Famous Chili
cup ..... $3.95 bowl ..... $6.50
Farrell's famous stewpot chili.
________________________________________________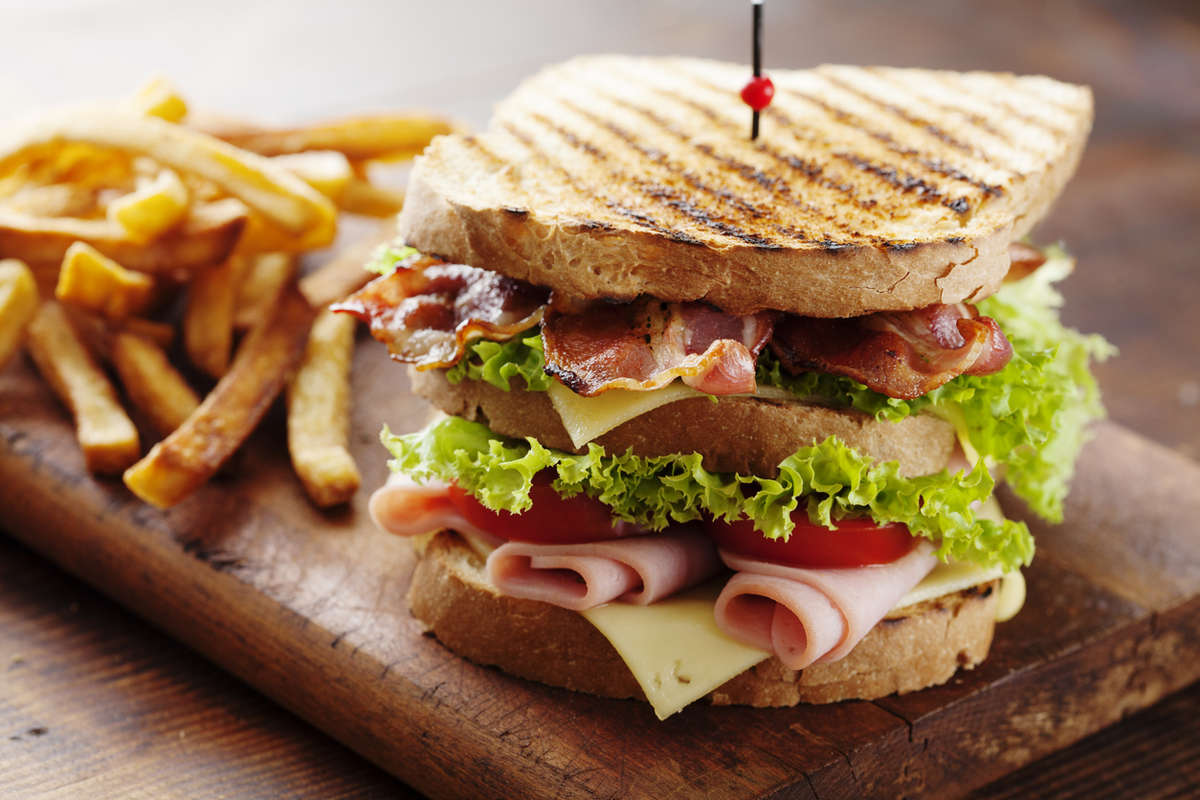 Farrell's Classic Burger ..... $11.25
Fresh, natural, hand-formed burger, lettuce, tomato, onions, pickles, melted american cheese, and Farrell's sauce.

The Pretzel Dog ..... $10.25
Quarter pound, all beef Nathan's Frank, mustard, ketchup, and diced onions on a pretzel. Try it with our signature chili and cheddar cheese for $1.75 extra.

Laredo Chicken Sandwich ..... $13
Grilled chicken breast, pepper jack cheese, Anaheim chillies, avocado, tomato, and our homemade chipotle sauce.

NYC Pastrami ..... $11.95
Sliced smoked pastrami piled high on grilled sourdough. Served with yellow mustard and pickles.

French Dip ..... $14.50
Thinly sliced, house-roasted tri-tip on a fresh French roll with a side of au jus for dipping.

Club Sandwich ..... $13.95
Roasted, sliced turkey breast, hardwood smoked bacon, lettuce, Swiss cheese, tomatoes, and mayo on three slices of sourdough bread.
Natural Beef Patty ..... $11.25
Chicken Breast ..... $11.25
1/4 Pound All Beef Frank ..... $10.25
Turkey Burger ..... $11.25
Veggie Patty ..... $11.25
Brioche, French Roll, Pretzel Frank Bun, Sourdough Bread, Lettuce Wrap or Gluten Free Bun (add $1.00)
American, Cheddar, Swiss, Pepper Jack,
Blue Cheese, Parmesan, Mozzarella, Smoked Gouda
Pick 4 items for free.
Iceberg Lettuce, Romaine Lettuce, Tomato, Pickles, Onions, Grilled Onions, Jalapeno, Chipotle Peppers, Anaheim Chili, Minced Garlic, Mushrooms, French Fries
Pick 2 sauces for free.
Farrell's Sauce, Ketchup, Mustard, Mayo, House Made BBQ, Ranch, Blue Cheese Dressing, Chipotle Mayo, Teriyaki, Buffalo, Marinara, Thai Chili, Brown Gravy
Egg $1.00, Avocado $1.50, Bacon $1.50, Pepperoni $1.50, Smoked Turkey $2.25, Pastrami $2.25, Tri-Tip $2.75, Stewpot Chili $1.00
Ice Cream Sundaes, Shakes, Floats, Cream Sodas and the classics from Farrell's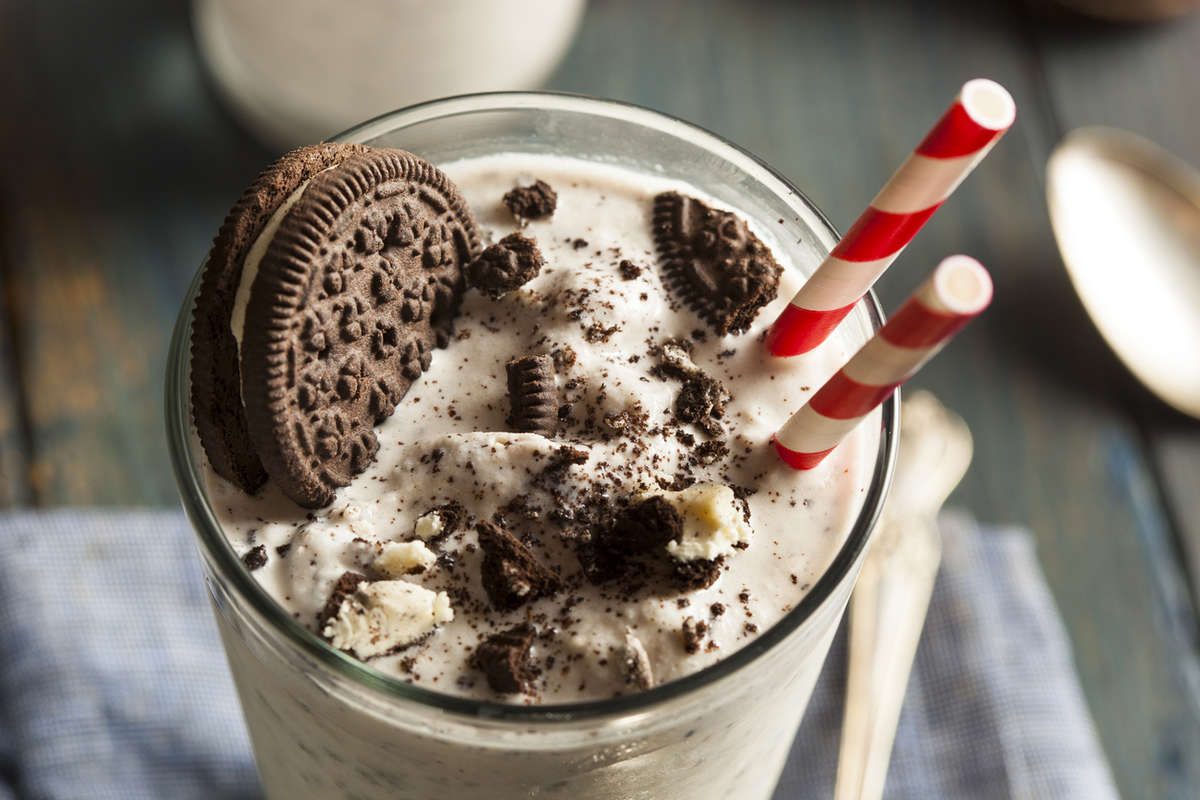 SHAKES, FLOATS, CREAM SODAS
Shakes ..... $6.25 Malts ..... $6.75
Our shakes are made in the traditional way, just ice cream and milk, then topped with fresh whipped cream and a cherry. Choose your traditional favorite or try one of our specialty shakes: Malted Crunch, Peanut Butter Meltaway, Oreo, Pete's Salted Caramel, Root Beer.

Floats ..... $6.50
Two scoops of vanilla ice cream, floating in delicious root beer, or try it with your favorite soda, or one of our specialty hand-crafted sodas from the candy store.

Cream Sodas ..... $6.50
Our classic ice cream soda is made with vanilla ice cream, soda, cream, and your choice of flavor.
_________________________________________________
All of our sundaes are made table side by our Fountain Crew and are topped with fresh whipped cream and a cherry. Choose from our signature sundaes or make your very own creation.

Single Scoop ..... $3.95 Double Scoop ..... $4.95 Triple Scoop ..... $5.95
Choose a Bowl or Sugar Cone Fresh Homemade Waffle Cone or Bowl (add $1.95)
Vanilla, Chocolate, Strawberry, Mint Chip, Butter Pecan, Chocolate Malted Crunch, Coffee, Chocolate Chip, Animal Cookie, Rainbow Sherbet, Lemon Sorbet, Berry Sorbet, Lactose Free Vanilla, No Sugar Added Vanilla
All toppings $1.00 each
Pourable toppings Housemade Fudge, Sweet Pete's Salted Caramel Sauce, Butterscotch, Peanut Butter Whip, Marshmallow Fluff, Strawberry Sauce, Pineapple Topping, Salted Caramel Whipped Cream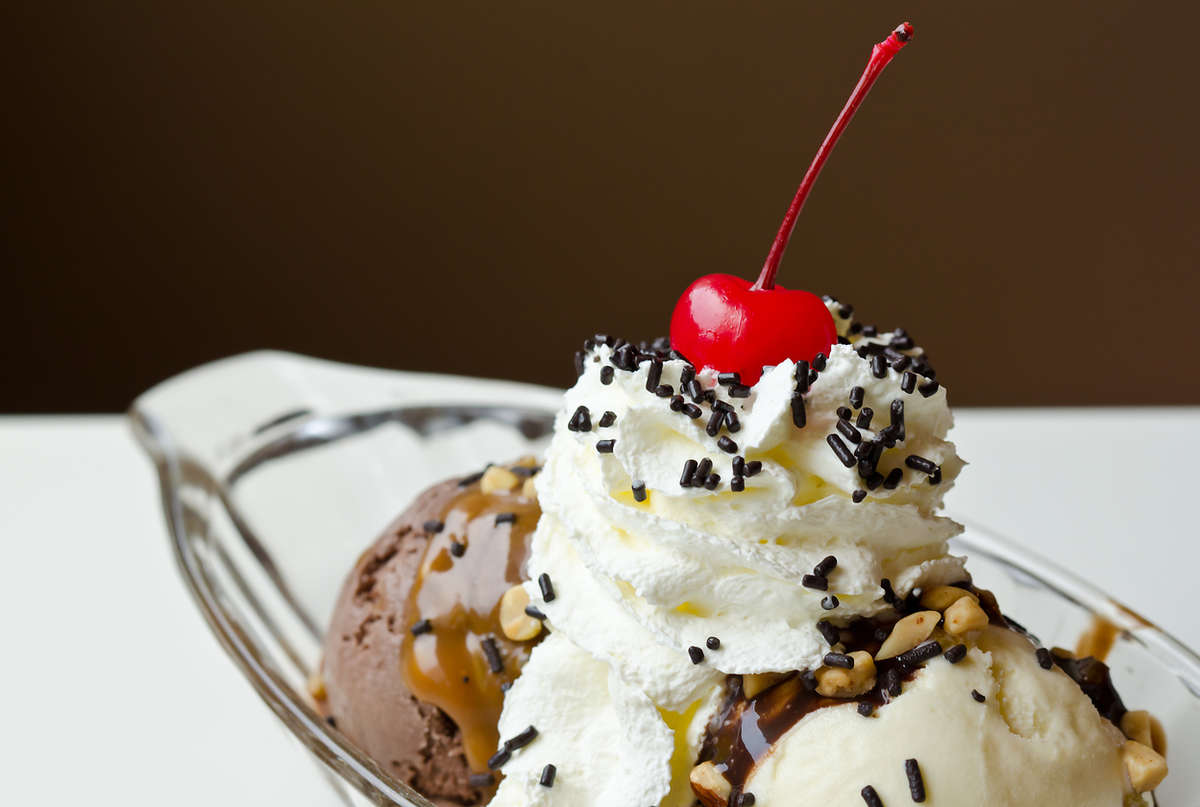 CANDY TOPPERS
Sweet Pete's Salted Caramel Chews, Peanut Butter Meltaway, House-roasted Pecans, Chocolate Chips, Oreo Crumbs, Rainbow Sprinkles, Nerds, Sour Patch Kids, Sour Worms, Kit Kat's, Reese's Cups, M&M's, Brownie Bites
PREMIUM TOPPINGS
Whole Fresh Baked Brownie ..... $3.50
Fresh Banana Wheels ..... $1.00
Fresh Strawberries ..... $1.00
Fresh Granny Smith Apples ...... $1.00
Fresh Waffle Cone Pieces ..... $1.00


Scoop of vanilla ice cream with your choice of hot fudge, caramel, or butterscotch, with whipped cream and a cherry on top ..... $5.00
A traditional split banana with a scoop each of chocolate, vanilla, and strawberry ice cream with pineapple, strawberry, and chocolate sauce, whipped cream, nuts, and a cherry on top ..... $10.50
An original, just like you remember. Our traditional banana split, times two! Served in a pig's trough (utensils optional!) with a special blue ribbon if you
finish it all by yourself! $16.00
Our largest sundae delivered to you by two servers! 30 scoops of chocolate, strawberry, and vanilla ice cream, with strawberry, chocolate, and marshmallow topping. Topped with bananas, sprinkles, whipped cream, a cherry, and a menagerie of animals!
*Feeds 10 ..... $65.00
A freshly baked, warm Ghirardelli brownie with three scoops of vanilla ice cream. Topped with hot fudge, whipped cream, and a cherry ..... $12.50
Three scoops of vanilla ice cream with hot fudge, Spanish peanuts, chopped peanuts, whipped cream, and a cherry $9.50
_________________________________________________